FRESH XMAS JAM
with
Chris Grindz
,
Ackurate
,
ATG
,
Chill
,
Azeei
,
Arch Mvddnezz
,
Alexei Shaun
,
JaiRocc
,
LL Manny
December 22, 2018
9:00 pm
CST
The Bootleg at Atomic Cowboy ,
4140 Manchester Ave, Saint Louis, MO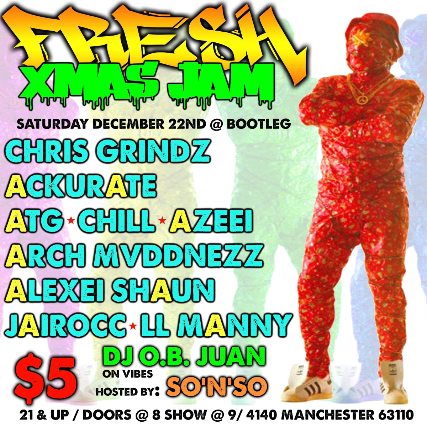 $5.00
Saturday December 22nd
@ the Bootleg:
FRESH XMAS JAM
featuring live performances by:
Chris Grindz
Ackurate
ATG
Chill
Azeei
Arch Mvddnezz
Alexei Shaun
JaiRocc
LL Manny
DJ O.B. Juan on vibes
Hosted by: So'n'So
$5
21 & up
Doors @ 8 Show @ 9
Located @
4140 Manchester 63110
Chris Grindz
Ackurate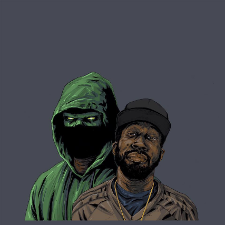 Determined to create music that resonates deep within us all, solo Hip-Hop/Spoken Word artist Ackurate found the courage, strength and sheer-will to overcome the depression that plagued him throughout his youth spent in East Saint Louis, IL. Born in the middle of '91, growing up he found inspiration through the words of his influences like Mos Def, Elzhi, Pharoahe Monch & many others;
Ackurate realized the best way for him to function was to find a way to inspire the people and help them through his words in the same honest, meaningful and memorable ways that he had once needed himself.
Through his charismatic charm, positive messages and wildly-dynamic rhythms & rhymes, the young man once known as Vincent Samuel Manuel has established himself firmly in the music-scene, well-respected by his fans and peers alike for the incredible music he makes as Ackurate. Releasing "Ackurate Precision" in 2012 to an enthusiastic wave of support, he went on to build on the success of his first mixtape to release the versatile & smooth "Versology EP" as part of the music-coalition "Indelible Niche Collective" in 2013 and started up "picKOne" with his sister Jane G33. Today Ackurate is enjoying the success of his multiple projects, the ongoing & growing support from his fans and is hard at work promoting his 2015 release Soul Misfit. Staying true to himself and giving a real voice to the voiceless – Ackurate continues to be inspired by the incredible talent surrounding him and returning the favour in full-force by inspiring others through his thought-provoking lyricism. After a lifetime spent breaking down the walls of depression – Ackurate is more confident, creative & ready than ever before and stoked to be able to present his very best music to date. For all the people out there that need to hear what real & what's important, for those that need to know they're not alone – Ackurate aims to positively charge your system and re-energize your soul.
ATG
Chill