Jamo Presents
Steady Flow + Cycles w/ Tree One Four
with
Steady Flow
,
Cycles
,
Tree One Four
November 16, 2018
9:00 pm
CST
The Bootleg at Atomic Cowboy ,
4140 Manchester Ave, Saint Louis, MO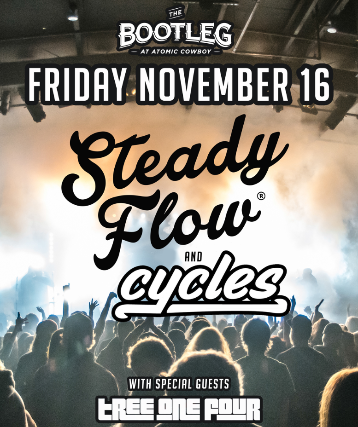 $10.00
Steady Flow + Cycles w/ Tree One Four
Friday November 16
Atomic Cowboy Pavilion & The Bootleg
St. Louis, MO
$10 ADV // $13 Day Of
Doors 8pm // Show 9pm
21+
Steady Flow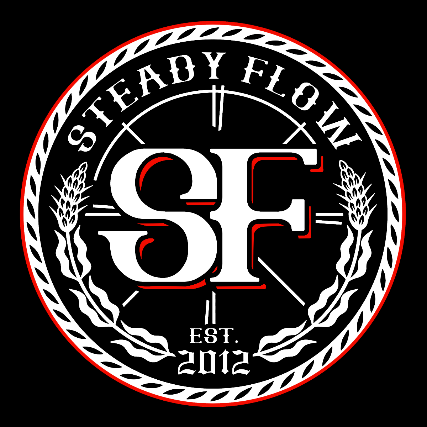 From the Heart of the Midwest, Steady Flow brings a unique style of powerful funk music like you've never heard it before. Formed in 2012 by 18 year old, soul guitarist extraordinaire, Tanner Brown, and his older brother, Ky "Goonie-Mom" Brown on bass guitar, the group has now transformed into a six-piece funk-powerhouse, quickly claiming their spot as one of the best live acts around.

In Steady Flow's short existence, the group has taken on music festivals such as North Coast, Summer Camp, Phases of the Moon, and the list goes on. The band is constantly turning heads at every performance as their hard hitting Funk Rock compositions shake the room and force all audiences to dance, rage, & simply feel good.

Steady Flow released their first EP, "The Oneoff Sessions" in 2013, and their debut album, "Loud." in June 2015. The band released their newest full length album, "Do You Like That?" in April 2017! Do not miss a live show near you. Steady Flow is "The Future Of Funk."
Cycles
Cycles epitomize the power-trio format with ripping guitar, fat bass grooves played out through furious slapping, and dynamic drum beats flowing over intricate tempo changes. Each member wields a unique take on their instrument that when played together, forms a truly fresh and cohesive sound. Patrick Harvey commands the guitar with speed and precision reminiscent of Jimmy Herring while using his loop pedal virtually as its own instrument, a skill unique only to him. Michael Wood has subtly forged a drum style that showcases his rare ability to mashup funky hip-hop beats with frenzied rock riffs and only displays flashy chops when necessary. At the heart of the band lies Tucker McClung's dominant slap-bass chops that captivate audiences while pumping the musical blood through the band.
Drawing influence from artists such as Rage Against the Machine, J. Dilla, Primus, Weather Report, and many more, Cycles fuses an eclectic blend of genres to produce an original sound that has become harder and harder to find. Although only two years old, Cycles have over 200 shows under their belt with tours extending across the entire U.S.
Tree One Four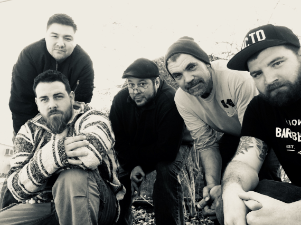 We are a four man band from St.Louis with a distinctive psychedelic reggae rockin funky blues sound.