Jamo Presents
Bonerama w/ Funky Butt Brass Band
with
Bonerama
,
Funky Butt Brass Band
September 21, 2018
7:30 pm
CDT
Atomic Cowboy Pavilion ,
4140 Manchester Ave, Saint Louis, MO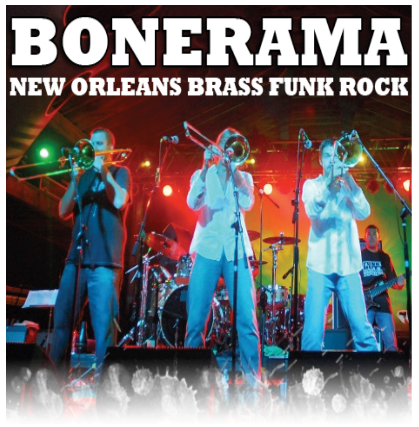 $13.00
FRIDAY SEPTEMBER 21
BONERAMA w/ FUNKY BUTT BRASS BAND
Doors 6pm // Show 7:30pm
$13 ADV // $16 Day Of
Atomic Cowboy Pavilion | 21+ unless accompanied by a parent or guardian.

Atomic Cowboy has seated dining inside until 10pm. Seating is first come first serve. Doors are 6pm unless stated otherwise, so come early, claim your spot and enjoy!

Rain or Shine.
Limited Seating Available.
No Coolers. No Lawn Chairs.
For ADA seating or to reserve a party of 20 or more in advance, email us at info@atomic-cowboy.com
Bonerama
Bonerama is:
Mark Mullins – Trombone / Lead Vocals
Craig Klein – Trombone / Lead Vocals
Greg Hicks – Trombone / Vocals
Bert Cotton – Guitar
Matt Perrine – Sousaphone / Electric Bass
Walter Lundy – Drums
BIO:
Bonerama has always been hailed as "unlike anything you've ever heard before".
It's the best way to describe this 20 year old powerhouse touring band from New Orleans, LA. 
In addition to changing the way people think about the trombone, the sound of 
Bonerama has become an influence and contribution to the sound of New Orleans music today.
 With newer acts such as Trombone Shorty and Big Sam's Funky Nation on the national music scene, it's New Orleans that has benefited with a newfound reputation as being a bonafide "Trombone Town". These bands all carry the trombone like the trophy it truly is in New Orleans. Bonerama helped cement this in present day New Orleans music culture.
The band has performed and recorded with countless national artists such as R.E.M., OK Go, Tom Morello, Wayne Kramer (MC5), Jill Sobule and so many more, all while bringing their distinctive sounds from New Orleans to a national spotlight. Festivals and events such as Monterey Jazz Fest to High Sierra Music Festival, Jam Cruise, Bear Creek Festival and of course the New Orleans Jazz & Heritage Festival outline some of the extensive festival work this band is involved with. National television appearances on CBS (Late Show with David Letterman), HBO (Comic Relief, Treme) and CNN has further exposed Bonerama to a wide range of unsuspecting new viewers.
"I never knew the trombone could do that." -Audience members everywhere.
While enduring lineup changes, member displacement, tragedy and loss over the years, the song for Bonerama has remained the same; being centered around their beloved trombone, city and culture 
while striving for greatness with a fun spirit.
Whether it's their inventive covers or funky, rocking originals, rest assured, Bonerama will take you on your most memorable RIDE ON THE SLIDE!
The new studio album "Hot Like Fire" was released on Oct. 6, 2017 on Basin Street Records.
This is Bonerama's seventh major release after Live at the Old Point (2001), LIVE From New York (2004), Bringing It Home (2007), You Are Not Alone (2008, OKGo and Bonerama), Hard Times (2009), Shake It Baby (2013).
In additional to being their debut release on Basin Street Records, the album features some fantastic robust and colorful packaging created by New Orleans artist and beloved musician Molly Reeves.
Bonerama. Now in their 20th year of changing the way you think about the trombone and New Orleans Music.
Funky Butt Brass Band
The Funky Butt Brass Band was formed in St. Louis, Missouri in 2007 by six talented musicians who respect and revere the New Orleans brass band tradition. The FBBB takes classic New Orleans brass tunes and gives them a twist, in the style of Dirty Dozen Brass Band, Rebirth and Bonerama. But don't be surprised if you also hear some Motown, Southern rock, Memphis soul, Chicago blues and St. Louis R&B in the mix.
The band has been voted Best Funk/Soul Band at the Riverfront Times Music Awards for four of the past five years. They have played such prestigious festivals as the King Biscuit Blues Festival, Roots N Blues N BBQ, Blissfest, Taste of St. Louis, Columbus Jazz & Rib Fest, Gumbo Ya Ya and the Big Muddy Blues Festival. And Funky Butt Brass Band has shared the stage with some legendary Louisiana artists, including Dr. John, Rebirth Brass Band, Bonerama, Chubby Carrier, Big Sam's Funky Nation, New Orleans Suspects and the Royal Southern Brotherhood.
The FBBB released its debut CD, Cut The Body Loose, in 2009. The second album, You Can Trust The Funky Butt Brass Band, entered the world in 2011. Both discs capture the wide variety of music and playful spirit the band brings to every live performance. They put out an epic holiday EP entitled Shiny Christmas Balls, and their latest CD, Sugar Sugar Whomp Whomp, featuring nine original tunes and three classic New Orleans covers, was released in November 2014. All CDs are available for purchase at FBBB shows, online at CDBaby.com, and as digital downloads from iTunes.