Chicago Farmer - Live Album Release Show
July 28, 2018
9:00 pm
CDT
The Bootleg at Atomic Cowboy ,
4140 Manchester Ave, Saint Louis, MO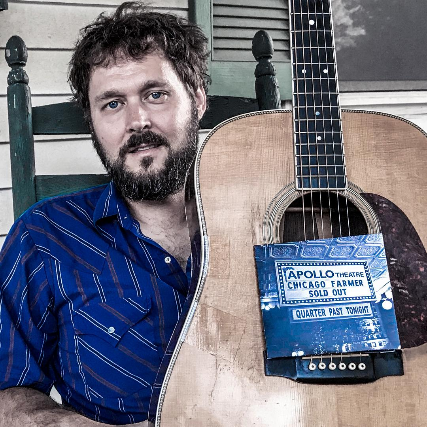 $10.00
SATURDAY JULY 28
Chicago Farmer
This will be a Live Album release show and party for Chicago Farmer's new 2 disc live album "Quarter Past Tonight"
Doors 8PM // Show 9PM
$10 ADV // $13 DAY OF
At The Bootleg
"After a few listens to the record it becomes apparent that Chicago Farmer has a refreshingly firm grip on where he comes from. The songs are covered to the elbows in dirt from the fields and smell of the sweaty factory floors. If the Midwest is looking for a voice, the search is over." - No Depression
"Chicago Farmer represents the best qualities of Midwestern U.S.A. His lyrics, his stories and his heart are true. He'll give you that feeling of 'going home'. He'll make you want to say all those things you've been meaning to say but were too afraid. At the same time his songs can make you ask yourself some deep questions. His songs give you hope. If you didn't know him I believe just his voice would make you believe every word he says. Definitely one of my favorite singers out there today." - Pokey LaFarge
Chicago Farmer
Chicago Farmer sings on the title track of Backenforth, IL, out January 22, 2013. It's the centerpiece of his sixth collection of Guthrie-inspired populist songs, as well as autobiographical. The son of a small town farming community, Cody Diekhoff logged plenty of highway and stage time under the name Chicago Farmer before settling in the city in 2003. Profoundly inspired by fellow mid-westerner John Prine, he's a working-class folk musician to his core. His small town roots, tilled with city streets mentality, are turning heads North and South of I-80.
Backenforth, IL is also about finding your place in life – that sweet spot where we all belong. "I love the energy, music, and creativity of Chicago, but at the same time, the roots and hard work of my small town," he shares. Growing up in Delavan, IL with a population less than 2,000, Diekhoff's grandparents were farmers, and their values have always provided the baseline of his songs.
He writes music for the "kind of people that come to my shows. Whether in Chicago or Delavan, everyone has a story, and everyone puts in a long day and works hard the same way," he says. "My generation may have been labeled as slackers, but I don't know anyone who doesn't work hard – many people I know put in 50-60 hours a week and 12 hour days. That's what keeps me playing. I don't like anyone to be left out; my music is for everyone in big and very small towns."
He listened to punk rock and grunge as a kid before discovering a friend's dad playing Hank Williams, and it was a revelation. Prine and Guthrie quickly followed. The name Chicago Farmer was originally for a band, but the utilitarian life of driving alone from bar to bar, city to city – to make a direct connection to his audience and listener, took a deeper hold.
Songs like "Workin' On It," are the kind of sing-a-longs he's known for; it's become common to see whole rooms full of strangers erupt and sing to the choruses of his songs on first listen. While "The Twenty Dollar Bill" is more sentimental, reminding everyone of that time their own Grandma surreptitiously passed along a little cash to hang onto.
Cody co-produced the album with Chris Harden in Chicago at the I.V. Labs Studios. While the inspiration has never changed, previous albums have been with Nashville session players – or just himself with guitar and harmonica.
For Backenforth, IL, he brought in friends for a loose and live vibe, accompanied by "The Hired Hands," Darren Garvey on percussion and Mike Davidov on bass. Cody and The Hired Hands were recorded live and on analog tape to capture the feel and authenticity of each performance. Later, some of Chicago's finest musicians chimed in on pedal steel, resonator, electric and acoustic guitar, organ, dobro, and vocals.
Chicago Farmer plans to continue touring relentlessly to support the new album.
With Backenforth IL, he solidifies that wherever he is, that's where he belongs, that's where the songs will be written and sung, and that's where the music will be played.