Greyhounds w/ Al Holliday and The East Side Rhythm Band + Mathias and The Pirates
with
Greyhounds
,
Al Holliday and The East Side Rhythm Band
,
Mathias and The Pirates
August 4, 2018
8:00 pm
CDT
Atomic Cowboy Pavilion ,
4140 Manchester Ave, Saint Louis, MO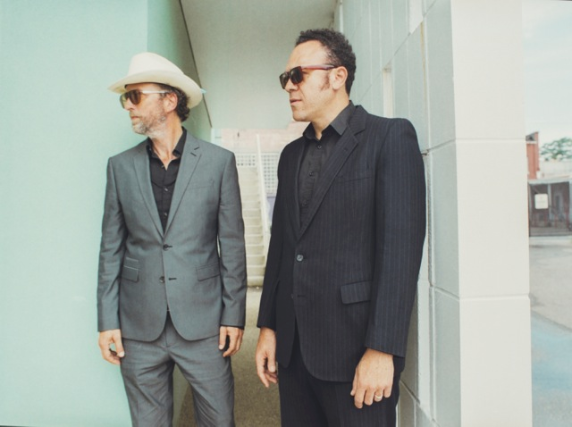 $12.00
SATURDAY AUGUST 4th
Greyhounds
with Al Holliday and The East Side Rhythm Band
and Mathias and The Pirates
Doors 6pm // Show 8pm
ADV $12 // Day Of $15
Atomic Cowboy Pavilion | 21+ unless accompanied by a parent or guardian.

Atomic Cowboy has seated dining inside until 10pm. Seating is first come first serve. Doors are 6pm unless stated otherwise, so come early, claim your spot and enjoy!

Rain or Shine.
Limited Seating Available.
No Coolers. No Lawn Chairs.
For ADA seating or to reserve a party of 20 or more in advance, email us at info@atomic-cowboy.com
Greyhounds
While recording at Sun Studios for the PBS series "Sun Studio Sessions", Greyhounds met Memphis native and acclaimed engineer, Matt Ross-Spang. Soon afterwards, Matt moved his operation to Sam Phillips Recording studio. Greyhounds were very familiar with the studio, and its deep history, and had always wanted to record there. It is the type of place that you walk into and are transported to another era. A perfect place to make the type of record Greyhounds were interested in making. A less produced, and more spontaneous style of recording, all straight to tape like many of the classic music that was made there in its heyday. Coincidentally, Ross-Spang has made a name for him self as a student of that old school style of making records.
Due to the high demand for the studio and Matts services, as well as Greyhounds busy touring schedule, it was challenging to find a time when they could work together. Finally a small window of time opened up ( 3 Days ) and Greyhounds made the trip from Austin, to Memphis to begin recording.
Pulling from 17 years of songwriting, Greyhounds had plenty of material to choose from. "It was a chance to look back at some of our favorite tunes that we never had recorded" ( Trube ). Because there were only 3 days in which to record and mix the record. Greyhounds knew they would have to be ready to perform these songs seamlessly, just like they would at a live show. "When recording to tape you have to make commitments. It is a lesson in letting go and not getting hung up on things. Its liberating" (Trube).
Greyhounds proceeded to Memphis and recorded and mixed 13 songs over the course of 3 days all live to 8 track 1" tape, with some special guest appearances from some of their good friends Will Sexton, Amy LaVere, and Art Edmaiston. "When you are going at that pace, you don't get a lot of time to second guess yourself. You learn to trust your instincts and be more present in the
moment." ( Farrell ).
"Cheyenne Valley Drive" is a product of a band at the height of their game, making music in a studio that has been virtually untouched by time, recording in the style that many of their musical heroes used. Basically a dream come true. A dream they want to share with you.
Al Holliday and The East Side Rhythm Band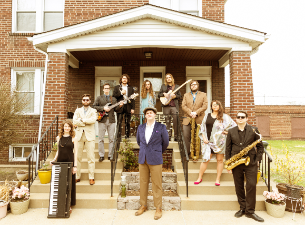 In a few short years, Al Holliday & The East Side Rhythm Band have built their reputation as the hard-hitting, world-class, force-of-Soul-and-R-&-B-nature beyond comparison. People everywhere have done more than just take notice as this young-blooded crew has brought their searing, raw performances to stages from their hometown St. Louis, across the country, and beyond.
The band's distinct brand of Soul music is a bit less "New York City" and much more "Mississippi River". Their sound combines the loose, funky feel of New Orleans R&B along with the visceral power and intensity of East St. Louis' own Ike & Tina Turner - and they bring it all right to ya with truly inspired original numbers by an undeniable, natural born artist, Al Holliday.
Whether it has been performing for the hysterical audience for their recent "Natural Remedies" CD release show, or sharing the stage with Galactic, Rebirth Brass Band, Dumpstaphunk, and Orgone: Al Holliday & The East Side Rhythm Band has been whipping audiences into a frenzy with their burning, truly one-of- a-kind performances.
The band's brand new release, "Natural Remedies", was cut live to analog tape by the nine young men and women that are The East Side Rhythm Band - made with as much blood, sweat and tears as fried chicken and potato salad. The performances on this album serve as a document of this burgeoning champion
Soul and R&B organization, while the content is nothing less than a revelation of a true artist, which in our times, is not something you see every day.
If you are looking for the real thing, look no further. The genuine article, steeped in tradition, truly inspired, with a whole lot of Soul - it is no mystery why Al Holliday & The East Side Rhythm Band is the Mississippi River's hottest young act - and sho' ain't no doubt - they' temperature is risin'.
Mathias and The Pirates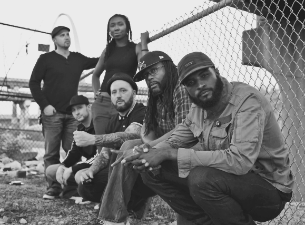 Mathias and the Pirates have become legendary for their passionate, energetic live shows with sweeping, sing-a-long hooks and infectious instrumentals that captivate crowds from beginning to end. Live instrumentation meets old school turntablism and masterful lyricism in this award winning, celebrated project from some of the best and brightest the embattled city of Saint Louis has to offer. Since 2012, The Pirates have become the go-to group to share stages and collaborate with some of Hip-Hop and Rock's most legendary voices, including Femi Kuti & Positive Force, Pete Rock & CL Smooth, Fishbone, Freestyle Fellowship, Sadat X, Blackalicious, Latyrx, Dead Prez, Kool Keith, The Urge, Blueprint, Dam Funk, Murs, Chali Tuna, Mobb Deep, and many more. A long list of awards and accolades follows the group wherever they go, and they continue to innovate and break boundaries when it would be much easier to keep with the status quo. Three stellar albums are the result of an unwavering, artisan approach to creativity and expression that defies anything typical and redundant. It's a heavily tattooed, soul-shakedown hip-hop party with a punk rock attitude and an affinity for deep, funky boogalo. Goes well with weed and whiskey. The Pirates are coming off of a big year, with high profile appearances at Loufest 2017 and Showcase STL providing the wind for their sails. Look for the new EP "Sadie the Goat" produced by DJ Crucial (with features from Abstract Rude and Myka 9), everywhere you find music! #wearefarfetched