RFT ShowcaseSTL 2018
June 16, 2018
3:00 pm
CDT
Atomic Cowboy Pavilion ,
4140 Manchester Ave, Saint Louis, MO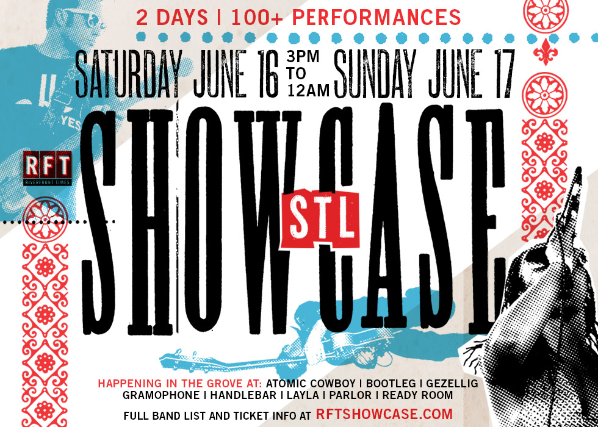 $10.00 - $15.00
THE RIVERFRONT TIMES MUSIC SHOWCASE TURNS 17!
This year's 17th Annual ShowcaseSTL will be the largest lineup yet, with more than 100 acts set to perform. The event will take up more space on the calendar as well with the addition of a second full day! The Grove will be transformed into an-inclusive music crawl both Saturday, June 16 and Sunday, June 17!
SATURDAY JUNE 16
ATOMIC COWBOY PAVILION
3 PM BRUISER QUEEN
4 PM MONKH AND THE PEOPLE
5 PM THERESA PAYNE
6 PM LOBBY BOXER
7 PM PAIGE ALYSSA
8 PM APOLLO'S DAUGHTER
9 PM BROTHERS LAZAROFF
10 PM GUERRILLA THEORY
11 PM DJ UPTOWN (INSIDE DJ BOOTH)
FEATURED EMCEE BLYRE CPANX
THE BOOTLEG
3:30 PM BIFF K'NARLY AND THE REPTILIANS
4:30 PM PROSPECT
5:30 PM THEE OSWALDS
6:30 PM REC RIDDLES
7:30 PM LITTLE BIG BANGS
8:30 PM SHADY BUG
9:30 PM BLOOM
10:30 PM ILLPHONICS
11:30 PM THE DOMINO EFFECT
12:30 AM BLACK FAST
1:30 AM SHITSTORM
SUNDAY JUNE 17
ATOMIC COWBOY MAIN OUTDOOR STAGE
3 PM MIDDLE CLASS FASHION
4 PM LE'PONDS
5 PM SEASHINE
6 PM MATHIAS & THE PIRATES
7 PM LOOPRAT
8 PM CAVEOFSWORDS
9:30 PM GUIDED BY VOICES
11 PM DJ MAHF (INSIDE DJ BOOTH)
FEATURED EMCEE BLYRE CPANX
THE BOOTLEG
3:30 PM YOUPEOPL
4:30 PM HUHT
5:30 PM SUBTLE AGGRESSION MONOPOLY
6:30 PM DAYTIME TELEVISION
7:30 PM RAILHAZER
8:30 PM GLUED
9:30 PM DJ NUNE IS LAMAR HARRIS
10:30 PM 18ANDCOUNTING & THEONLYENSEMBLE
11:30 PM THE KNUCKLES
12:30 AM NIKEE TURBO
Guided By Voices