Memorial Day Weekend Pass - 4 Shows for $50 at Atomic Cowboy Pavilion!
with
Twiddle
,
Aaron Kamm & The One Drops
,
MONOPHONICS
,
Portrait
,
Leftover Salmon
Atomic Cowboy Pavilion ,
4140 Manchester Ave, Saint Louis, MO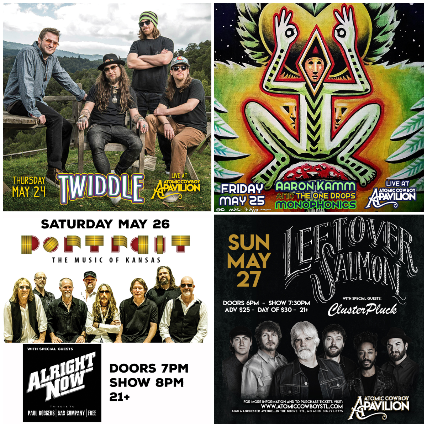 $50.00
Memorial Day Weekend Pass
4 Shows for only $50! - An $83 Value!
5/24 - Twiddle
5/25 - Aaron Kamm & The One Drops + Monophonics w/ Crate2Crte Sound System
5/26 - Portrait - The Music of Kansas w/ All Right Now - Bad Company Tribute
5/27 - Leftover Salmon w/ ClusterPluck
Includes Free Entry to Bootleg After Parties when applicable.
Atomic Cowboy Pavilion | 21+ unless accompanied by a parent or guardian.
To upgrade from a previously purchased ticket please email promotions@jamopresents.com

Limited Seating Available.
No Coolers. No Lawn Chairs.
For ADA seating or to reserve a party of 20 or more in advance, email us at info@atomic-cowboy.com
Twiddle
With 12 years of relentless touring behind them, Vermont-based rock band Twiddle has built an impressive resume spanning Red Rocks to Bonnaroo, and multiple sellouts of historic rock venues including Port Chester, NY's Capitol Theatre, and Washington D.C.'s 9:30 Club. And with the second half of the band's third studio album, PLUMP, on the horizon, the band's career continues to catapult forward. Buoyed by the generous support of 359 Kickstarter donors, the 27-song album does more than showcase the group's beautiful music, but also tells an important story, comprised in PLUMP Chapters 1 & 2.

Recorded during a two-year span with legendary producer Ron St. Germain, PLUMP serves as a reflection of four brothers' triumphs and struggles, both individual and as a whole. On Chapter 1, songs like "Lost in the Cold" and "Every Soul" detail what it's like to hit rock bottom and how to rise back up.

"So many fans have shared how these songs carried them through very difficult times, and that alone makes this all worth it," said Brook Jordan, Twiddle's percussionist and vocalist. Comparatively, Chapter 2 contains genre-bending instrumentals, as well as mystifying epics like

"Nicodemus Portulay" and "Orlando's." More than ten years later, these songs mirror the earliest Twiddle arrangements of 2004-2005 when Mihali Savoulidis and Ryan Dempsey were collaborating in their freshmen dorms at Castleton State College. The completion of PLUMP is timely, coming at a moment when the band's fervent fan base is at an all-time high and expanding rapidly.

In the live setting, more and more people are invigorated by Twiddle's community, promoting positivity and the band's skillful improvisational music. So many like-minded people believe in the greater good, and they find that good in Twiddle.

Twiddle is comprised of Zdenek Gubb on bass and vocals, Ryan Dempsey on keyboards and vocals, Mihali Savoulidis on guitar and lead vocals, and Brook Jordan on percussion and vocals.
Aaron Kamm & The One Drops
Hailing from St. Louis, MO, Aaron Kamm and the One Drops merge flavors of Roots Reggae, Mississippi River Blues, Improv-laced Jams, and Soulful Vocals. With a High energy performance and a unique sound this band is a must see
MONOPHONICS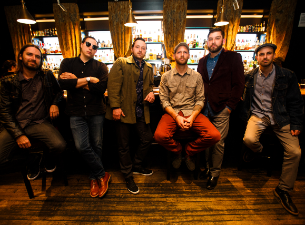 Monophonics
Monophonics are just hitting their stride as one of the premier soul bands in the country. The Bay Area band delivers cinematic songs with timeless hooks anchored by Kelly Finnigan's soulful organ and powerhouse vocals. Their sound is inspired equally by classic soul, heavy funk, psychedelic rock, and classic American songwriting.
The band's main members live just North of San Francisco, CA in Marin county, a place revered among artists, surfers, hippies and musicians; three of them grew up here. The band members simultaneously revere and honor the Bay Area's colorblind and highly diverse musical tradition that dates back to Haight/Ashbury's psychedelic revolution and Sly Stone and the Family Stone's multiracial, funky grab-bag. Soulful vocals, funky drum-breaks, psychedelic guitar licks and fuzz bass intermingle effortlessly across the band's catalogue, most effortlessly on their newest EP: "Mirrors".
Mirrors delivers a six-song fix to fiending fans and curious newcomers in advance of a new Monophonics full-length later in 2018. The release is all cover tunes with some well-known songs mixed in with some seriously deep cuts, all band favorites. "Sound of Sinning" (Transistor Sound Records, 2015), the band's second full-length album since lead singer, producer and keyboard player, Kelly Finningan joined the band. Evolving from their psychedelic soul roots with "In Your Brain," (Ubiquity, 2012), "Sound of Sinning" displays the bands' appreciation for classic song craft and Summer of Love pop-soul-psychedelia.
Monophonics' meticulous, yet raw recordings start just like their raucous and soulful live shows, "in the same room, cutting live as a rhythm section together," Finnigan explains. Ryan Scott and Mike Rinta's horn and string arrangements add accents and sonic colors to the tracks, completing the soul symphony. In the tradition of Stax, Muscle Shoals, Daptone and Dunham, Monophonics' sonic approach is equal parts classic analog gear, (everything's recorded to an old Tascam eight-track 1/4" tape machine), old-fashioned woodshedding, and Ian McDonald and Kelly Finnigan's late night overdubs and studio wizardry. "We're from the same school as the producers from the studios we love. We use the tools that we have to make the best records we can."
Baked-in to any Monophonics record there's a vibe, that elusive element that lesser bands can't fake, as Kelly Finnigan put it: "I think it's having people who are all on the same page, striving to capture that musical moment and being honest in their playing and being thoughtful and putting their ego to the side to serve the song." Monophonics is Austin Bohlman (Drums), Ian McDonald (Guitar/Background Vocals), Ryan Scott (Trumpet/Back- ground Vocals/Percussion) & Kelly Finnigan (Keys/Lead Vocals) along with Max Ramey (Bass).
Portrait
PORTRAIT —The music of KANSAS It takes legends to tribute legends.
And in 2017, eight of St. Louis' leading musical icons joined forces to pay homage to the eight-time gold, three-time multi-platinum album producing, rock legends: KANSAS.
PORTRAIT is a creative collaboration of: power vocalist Anthony Ingracia, guitar aficionados James Comparato and Mike Baue, bass guitar wonder Mike Gregory, percussionist extraordinaire Dave Batchelor, keys masters Harold Draper and Damon Atkinson and classical violinist Mark Hochberg.
This lineup nails the complex symphonic arrangements and changing time signatures that produce KANSAS' unforgettable sound. PORTRAIT focuses on the band's most celebrated music, hits and deep cuts from Carry on Wayward Son, Hold On, Dust in the Wind to Point of No Return.
PORTRAIT is the hottest new tribute band in town and a picture-perfect addition to any event looking to leave their audience awe-struck.
Leftover Salmon
For any band to thrive on the road for nearly thirty years, there needs to be a constant source of renewal, a fresh spring of creativity at the center of the music that brings each member back for more. For Leftover Salmon, one of the great purveyors of Americana, this source came first from the American roots music traditions they came up with: bluegrass picking, Cajun two-stepping, the country blues. For all these years–over the course of their rise to become one of the biggest bands on the roots music circuit today, with legions of fans and routinely sold-out shows–Leftover Salmon have picked up many more influences. Much of this comes from the interactions between the founding members' roots and the newer band members, who bring refreshingly different influences and ideas to the songwriting process. With their new album, Something Higher, due out May 4, 2018 on LoS Records, Leftover Salmon taps into everything from horn-blasting R&B to reverb-drenched desert noir, from the cosmic roots music sound they helped create to neo-New Orleans-meets-Appalachia liquefaction. There's an unmistakable evolution to Leftover Salmon's sound, and Something Higher has an edge to it that feels entirely new.
To create Something Higher, Leftover Salmon returned to long-time producer Steve Berlin (Los Lobos) with a new mission: to record at the famed Wavelab Studio in Tucson, Arizona, and to go all analog. The warmth of analog, coupled with Berlin's uncommonly attuned ear for the dynamics of larger bands, brought a more focused sound to the group and challenged them as well. "He's always looking for that thing in a song or a groove that he hasn't heard before," says bassist Greg Garrison about Berlin, "which is tricky because he's heard a lot of stuff already! He pushes the band to do something different, to surprise him." Over 10 days in Tucson, Leftover Salmon laid out the new music, each songwriter bringing a songwriting kernel and letting the rest of the band work out new improvisations to craft the final song. The key to Leftover Salmon's music, now more than ever, is the way they marry technical precision with easy groove. It's a trick that old jazz players used to pull, a dance between virtuosity and the illusion of ease. In crafting the new music, founding members Vince Herman and Drew Emmitt provide a foundational focus and guiding spirit, while banjo player Andy Thorn keeps the band close to their original roots in backstage picking parties. The rhythm section–bassist Garrison, keyboardist Erik Deutsch, and drummer Alwyn Robinson– was a key focus point for Berlin, who drew out members' backgrounds in jazz and hip-hop to zero in on the heart of Leftover Salmon: the groove.
For the past quarter-century, Leftover Salmon has established itself as key to the Americana genre, digging deep into the well that supplies its influences; rock 'n' roll, folk, bluegrass, Cajun, soul, zydeco, jazz and blues. They are the direct descendants of bands like Little Feat, New Grass Revival, Grateful Dead and The Band, born of the heart and soul of America itself, playing music that reflects the sounds emanating from the Appalachian hills, the streets of New Orleans, the clubs of Chicago, the plains of Texas, and the mountains of Colorado. They've endured over all these years, earning their unequivocal stature as a truly legendary band.